Little Mermaid News and Events
This entry added: 14 / November / 2002 8:00 PM Pacific Time.
Okay, here's my take on the new Disney Dolls:
First of all the Flutter Fantasy Ariel... I give her a perfect 10! I saw this one at Wal Mart for under $20:


Next is the Little Ariel Doll by Playmates which I saw for under $20 at K&B Toys.. also VERY nicely done. She actually looks better in the box than at the Playmates Website.
Okay, I'm a little late in reviewing these two dolls above but I've really only seen them recently.

Now below we have two new LARGE sized dolls from Disney Interactive Dolls which I saw at Wal Mart also by the way. I've only seen only Belle and Cinderella so far:


You can click on the above images and go to their respective promo page. I'm sure Ariel will follow soon. These dolls are about 18 - 20 inches or so tall and large, and very much resemble the "Little Princesses" (also by Playmates, and mentioned just above). Cinderella is definitely the best of the two and gets a respectable "9" score from me - very beautiful looking doll. Unfortunately the Belle version is not so good, most noticably the face.. it just isn't quite right. Hopefully Ariel, when she comes along, will be.
...and now finally, the very large and life sized dolls: First off, Belle who I just saw at the Disney store, is I'm sorry to say a complete disappointment. If you push her tummy she talks but it's extremely muffled and quiet. I actually couldn't understand what she said. The face needs a lot of work... also needs a lot of immagination.. it might be Belle. Not sure if Ariel will come along in this model but I'm quite sure she will. Hopefully she'll get a nice face


Please note that the above reviews are just my opinion. After all, "Beauty" is in the eye of the beholder, right?
Wait, there's yet another, she's the Talking Princess Ariel available from the Disney Store website, a very nice looking doll I think:


Oh, and there's one more on the way supposedly by Christmas (BTW, thanks Beth for the Disney Dolls Update on your pages). From the Party Princess dolls collection, here's Ariel:




( If you click the image above, don't forget to scroll down when you get there )



Well, that's it for now and as always, have a GREAT Ariel day!!
This entry added: 13 / November / 2002 4:00 PM Pacific Time.
Brenda finished her mural and here's a few pics:
First, here's how it's looked for a long time: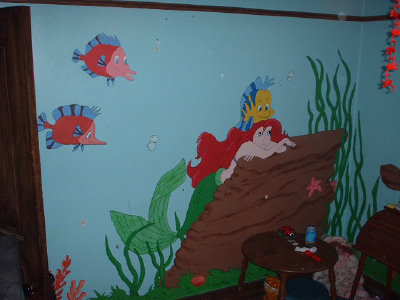 Here's how Ariel looks now, now that her lips are completed: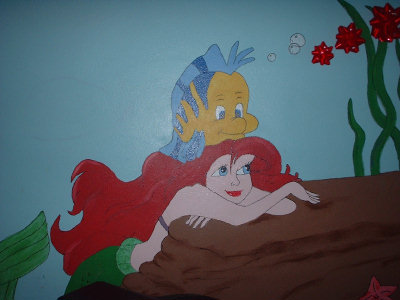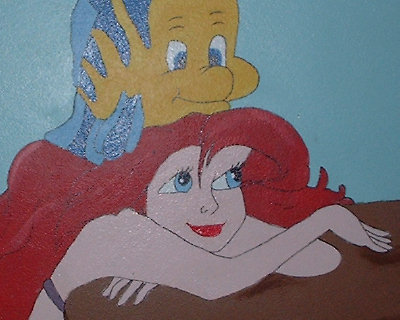 Really nice work!! Sure wish I had one in my room!

This entry added: 8 / November / 2002 9:00 PM Pacific Time.
New Ringmaster for Little Mermaid Ring...
and that would be yours truely! I have to say that I'm absolutely thrilled to have successfully adopted this TLM Ring which by the way is the biggest and the best. I'm dedicating myself to keeping it that way. For those of you who have sites in the ring I'd just like to say thanks and that you make it a joy to navigate through which helps explain why it receives so many visitors every day (over 400).
If you have a Little Mermaid site and would like to join, please do. You can visit the Main Ring Page and you'll find all the sites listed and a link to click on for joining.Well, that's about it.. have a GREAT Ariel day!!
This entry added: 3 / November / 2002 7:00 PM Pacific Time.
3 new Ariel dolls!!!
http://disney.store.go.com/DSSectionPage.process?Merchant_Id=2&Product_Id=100562&Section_Id=13432&CLK=DS_DCOM
(Better link than I posted yesterday)
http://www.aracnet.com/~danbeth/disneydoll.html
http://www.aracnet.com/~danbeth/partyprincesspage.jpg
The first one is an 11 1/2'' Talking Princess Ariel Doll, the second is the Party Princess Ariel! New for 2002 (very nice) and finally there's the "...new Dream Time Disney princess dolls coming that have soft bodies that you can sleep with :) Which include Ariel, Snow White & Sleeping Beauty. This is the only picture I have of them right now.". These pages are from Beth's Doll site which features an extensive collection of Ariel dolls. You can visit the Ariel pages here. Thanks Beth for passing them along


Explore Your Web... and have a GREAT Ariel day!!


Mike





Previous Pages: 19 18 17 16 15 14 13 12 11 10 9 8 7 6 5 4 3 2 1